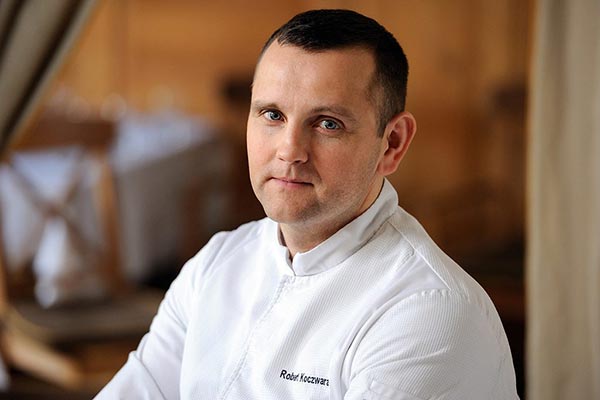 Robert Koczwara
EXECUTIVE CHEF
He has been involved with gastronomy since 1995. He specialises in Italian cuisine; has participated in numerous internships and trainings in Italy, inter alia in Piemonte and Tuscany. He has been co-developing his first sister restaurant Trattoria Mamma Mia since it was opened in 2006. In subsequent years he was responsible for training chefs for new restaurants in the group: Bianca, Boscaiola, La Grande Mamma and The Spaghetti. Asked about his definition of the ideal chef, he indicates diligence, reliability and commitment. In his private life, he is a lover of travelling, endlessly devoted to his children with whom he loves to spend his spare time.
Katarzyna Surówka
MANAGER
Katarzyna Surówka is a graduate of administration and management studies. For several years before joining us a manager at La Campana she was associated with the Cherubino restaurant. She has been working in La Campana's restaurant for 4 years, as a waiter and supervisor, recently as one of the managers of the restaurant. Gastronomy has inspired her with a love for good food and wine. For many years she has been interested and taken part in ballroom dancing. At present she spends her spare time actively, mainly at the gym.
Krzysztof Kaczor
SOUS CHEF
He made his first steps in gastronomy in 2010. He went to La Campany in May 2016. recommending friends. In his free time he is interested in news in gastronomy and sport. He is motivated by satisfaction of those around him and overcoming his own weaknesses. His passion – cooking and learning about other cultures, consumed him completely. Most often it relaxes through active rest, music and spending free time with friends. He believes that self-improvement and humbleness are the essence of the definition of his person.
Anna Zaleska
MANAGER
She started working in the catering industry in 2013. She came to Campana by accident. In his spare time he travels: he likes to discover both new places and return to his old places. The city that she loves and in which she would like to live is Lisbon. Besides, in her free time she spends time with her family and friends who are very important to her. The possibility of development and the desire to acquire knowledge motivate her to act. The sun is the way for her to relax. As a manager, she's defines by empathy, compassion, seriousness, ability to solve problems and creating a pleasant atmosphere at work. He believes that the restaurant is made up of all the people who work in it and it is important to be a binder for this team
Kamil Jeleń
EXECUTIVE SOUS CHEF
Kamil Jeleń has been in gastronomy since 2007. His skills and experience were acquired in restaurants such as, Wentzl, Holiday Inn by Hilton and Radisson. Professionally he specialises mainly in Italian cuisine, with a passion of a devotee for French cuisine also. His biggest culinary challenge so far has been the preparation of a dinner for President Andrzej Duda. He is interested in motoring. In his spare time he spends time with his family, with his daughter and son.
Renata Juszczyk
MANAGER
Renata Juszczyk trained as a food technologist, and has been working at the Wesele restaurant for 7 years. Her professional career began in the Hotel Sofitel (formerly the Forum Hotel), where she worked for nearly 15 years in the calculation, control and sales department, and as a manager in the hotel's catering department. After the hotel was closed she spent several years as a sales manager in the Wierzynek restaurant. Privately she is a travel enthusiast. She has visited Cuba, Mexico, Israel, and hiked the Atlas Mountains and has visited almost all the European countries. She loves to spend time in her allotment garden and is actively involved in Nordic walking.